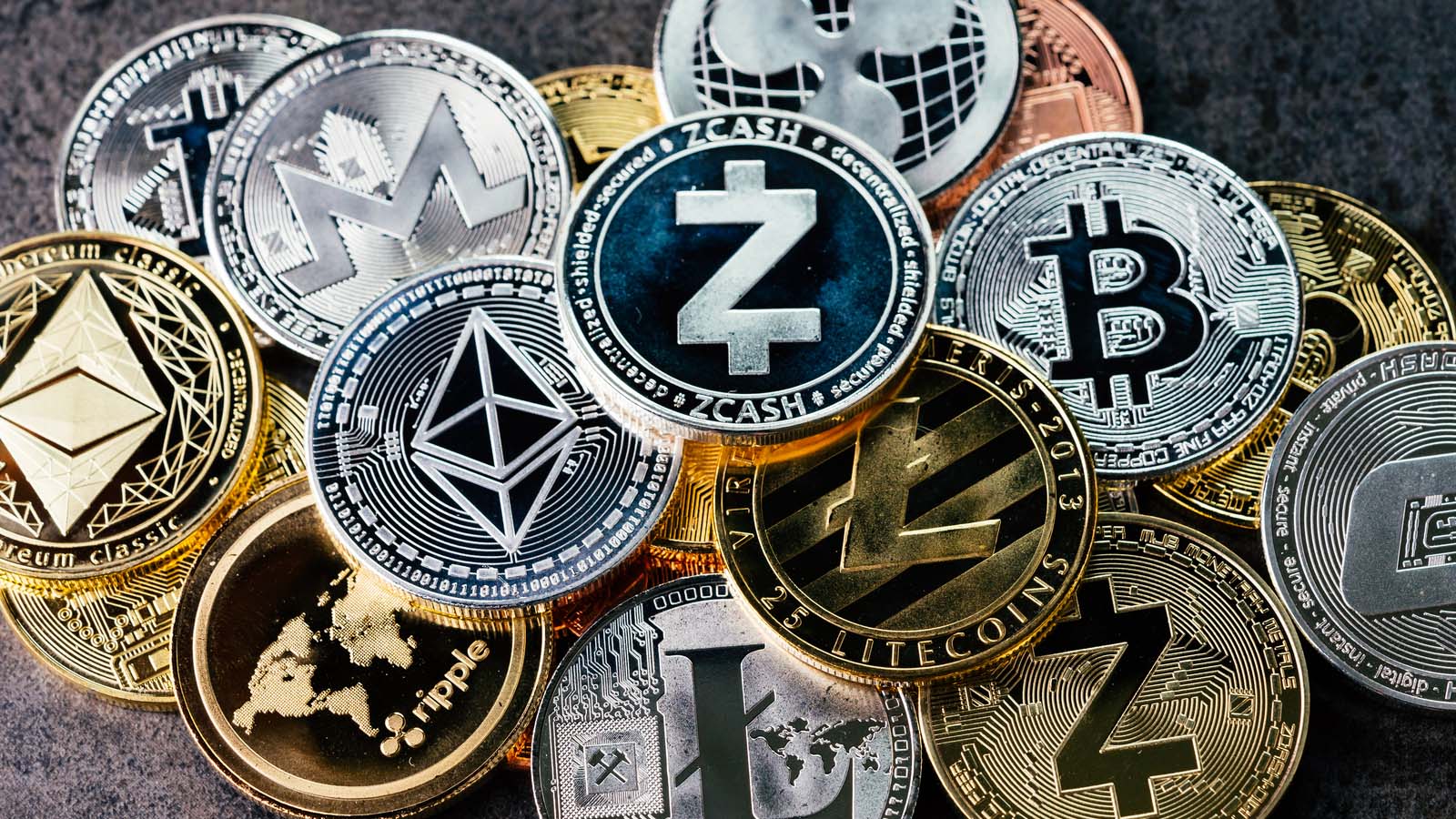 Ladies and gentleman, welcome to "Altseason."
This isn't like the "holiday season," or a meteorological season like winter, spring, summer, and fall.
This is a season of price surges and wealth creation.
It's a season I highly recommend you understand and take advantage of …
I like to call it Altseason for short, but the longer name you may hear from others is "altcoin season."
Altcoins are any cryptocurrency other than bitcoin.
Bitcoin was the first crypto and is by far the largest with a market cap of nearly $700 billion. So altcoins are … well … everything else.
When companies are worth $700 billion, big stock moves are hard to come by. But if you've followed bitcoin at all in recent weeks, you've seen it rocket higher … from $10,000 to $40,000 in less than four months. It even doubled from $20,000 to $40,000 in just three weeks.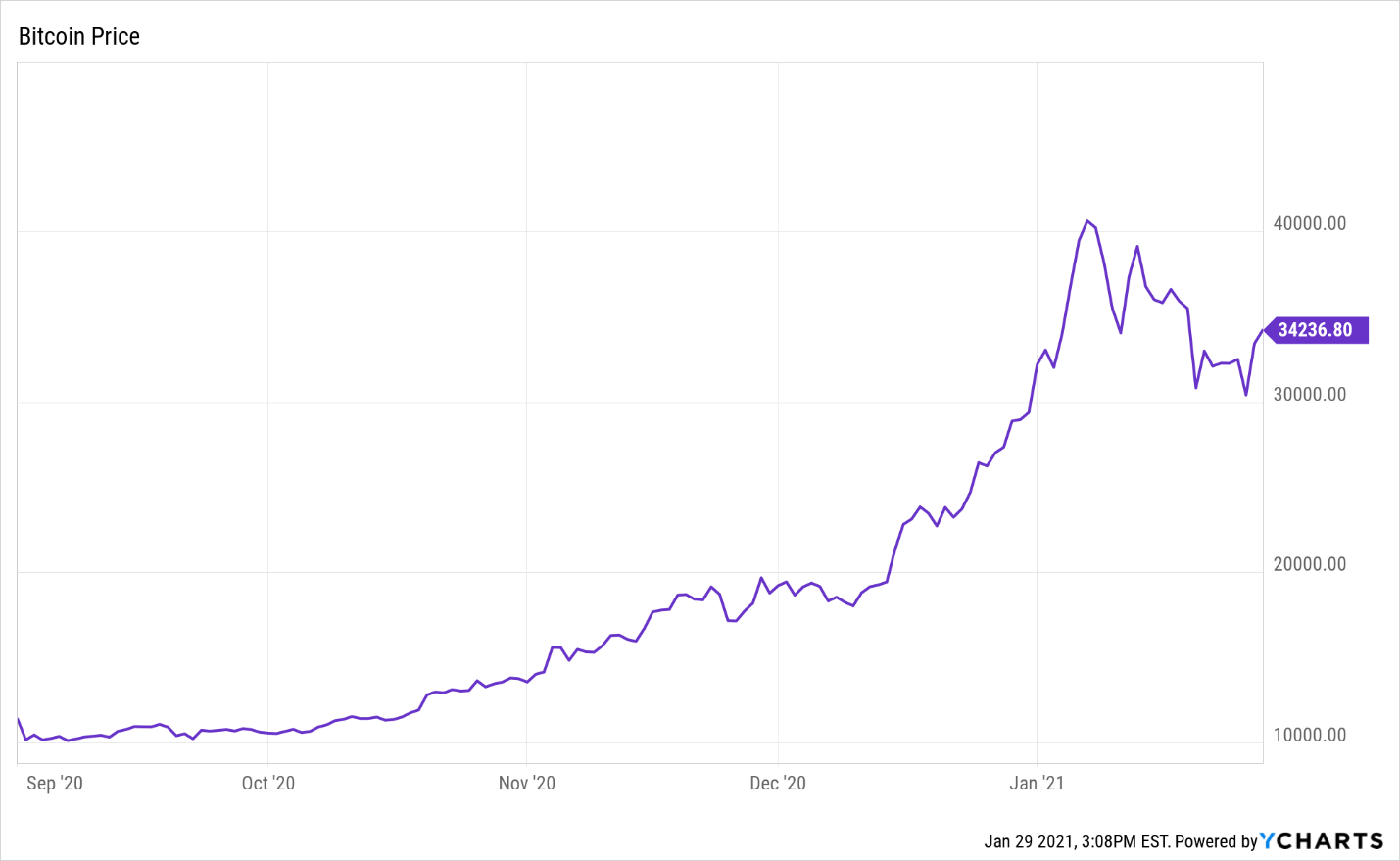 But too many people stop there. Altseason is about recognizing the other, smaller cryptocurrencies — altcoins, which are really the software programs of the future — that few people know about. They may be smaller, but they make bigger price moves.
Usually much bigger …
Just look at the second largest cryptocurrency, Ethereum. It has made all-time highs of its own. In the same time that bitcoin is up a little over 200%, Ethereum has jumped closer to 300%.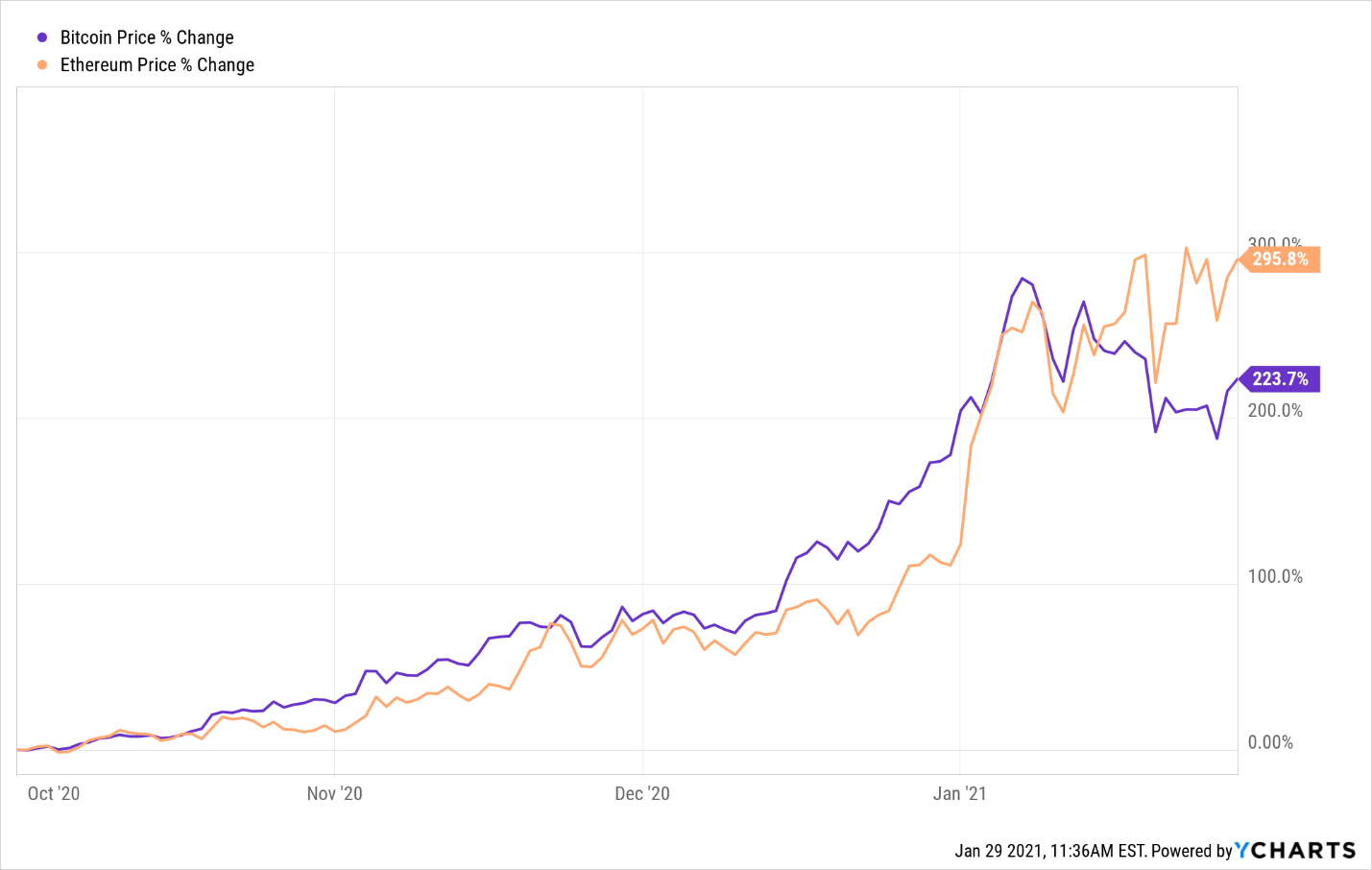 As bitcoin continues to make headlines, I think back to when I was pounding the table on buying it below $10k. It was not a popular call with a lot of folks. Many believed cryptocurrencies were a dying fad.
Not only were the skeptics wrong then, those who remain skeptical now will miss out on one of the greatest investment trends of the century.
Bitcoin $100k is not unrealistic at all. And as the bellwether cryptocurrency sets up for more upside, select smaller altcoins are poised to move even higher.
That's Altseason.
This isn't something I made up. It's not even new. We've had Altseasons before.
Altseasons follow an event that's baked into bitcoin's software code. It's called the "halvening" — or "halving" — when the amount of new bitcoin coming onto the market gets cut it in half. Less new supply at a time of strong demand pushes prices higher.
But the biggest opportunity by far — and the one few people know about — is in select altcoins. In past Altseasons following bitcoin's halvenings, the best altcoins not only followed bitcoin higher … they outperformed it.
In the typical scenario after past halvenings, bitcoin rallies and breaks out first… and then altcoins follow with even more amazing gains as investors look for the next big winners.
Bitcoin has soared after its latest halvening event. And now altcoins look to be beginning their big surge as well. That makes now the time to buy to get in for the biggest gains.
Plus, there's another factor to consider that could make this Altseason the biggest one yet …
The big money is coming in.
Nearly nine months after the new supply of bitcoin got cut in half, the amount being bought by large firms such as Square (NYSE:SQ), PayPal (NASDAQ:PYPL), and Grayscale is higher than ever.
In addition, several high-profile investors and firms are talking about bitcoin much more positively than before.
Among the best known is billionaire hedge fund manager Paul Tudor Jones. He called it the best hedge against inflation, and he compared investing in bitcoin now to investing early in tech stocks. He also thinks bitcoin is only in the first inning (out of nine).
There's also Bill Miller, the legendary mutual fund manager who famously beat the S&P 500 every year from 1991 to 2005. He also turned bullish on bitcoin, even urging investors who do not have exposure to buy.
This is an important shift. In past years, rallies have been driven more by individual investors flocking to bitcoin. This time, big money is largely responsible for the latest rally.
Big money is just now dipping its toes into the world of cryptocurrencies, showing that it is still early in the game with a lot more to come.
Remember, cryptocurrencies aren't fantasy internet money. The technology that bitcoin and altcoins are built on — the blockchain — is the future. Just about everything will one day be built on the blockchain.
It's going to touch virtually every industry on Earth.
Sending money around the world will take seconds and cost mere pennies. Buying a home will take days, not weeks — and the transaction will cost a small percentage of what it does today. Even tracking a vaccine from the time it was created to the needle going into your arm will be done on the blockchain.
It blows my mind to think about what's coming, and this transformation is already underway. The blockchain and cryptocurrencies are being used in more and more places all the time, and this massive disruption creates a once-in-a-lifetime financial opportunity for smart investors like you who are acting today.
Blockchain technology is the software of the Roaring 2020s. The best way to build wealth from this huge trend is through the best and strongest altcoins.
On the date of publication, Matthew McCall did not have (either directly or indirectly) any positions in the securities mentioned in this article.
Matthew McCall left Wall Street to actually help investors — by getting them into the world's biggest, most revolutionary trends BEFORE anyone else. Click here to see what Matt has up his sleeve now.